This recipe uses a Greek marinade that brings together my favorite things: olives and artichokes. This is no choke, I am obsessed with olives and artichokes. My friend created my logo and guess what she decided to highlight? An artichoke. These two ingredients are featured in this dish and they pack tons of a flavor but also tons of nutrition!
Artichoke Nutrition:
FIBER FIBER FIBER! Fiber is so important as it helps regulate our bowels and can improve our blood glucose and cholesterol levels. One medium artichoke boosts 7 grams of fiber. That is about 25% of our daily recommended intake of fiber in just one artichoke! (1)

Studies have shown how artichoke intake can improve cholesterol and triglyceride levels. (1)

Artichoke are composed of a large amounts of antioxidant compounds that have shown to diminish oxidative stress and reduce inflammatory bio markers. (2)
Olives Nutrition:
Many studies have highlighted their anti-inflammatory, anti-cancer, and neuroprotective properties. (3)

Cellular studies, animal studies and human studies have shown that regular consumption of olives prevented decline in bone mineral density and improved bone turnover markers, making the fruit a potential tool to help prevent osteoporosis. (4)

Emerging evidence links olives as a functional food due to it being a source of beneficial probiotics. (5)
*keep olives in moderation (as with anything) as they do contain a decent amount of sodium
LEmon Artichoke Chicken
Why use chicken thighs?
Chicken thighs tend to stay moist when cooking for longer periods due to their high fat content. They are also a bit cheaper than breasts making this recipe a great option when cooking on a budget.
Can I use chicken breasts?
Feel free! Like I mentioned above, the thighs tend to stay moist but chicken breasts will work great as well. You may need to cook the breasts for longer, approximately 5-6 minutes on each side.
How can I tell my chicken is cooked through?
A thermometer can be placed in the thickest part of the chicken and should read 165 F. Make sure the chicken is cooked until no longer pink.
Can I use skin on chicken thighs?
Yup! The skin will become a bit crispy when cooked. We used skinless chicken thighs to cut back on some of the fat and calories in the dish.
Are chicken thighs dark meat?
Yes there are! The dark meat makes this dish moist and tender :-)
Greek Style Chicken Thighs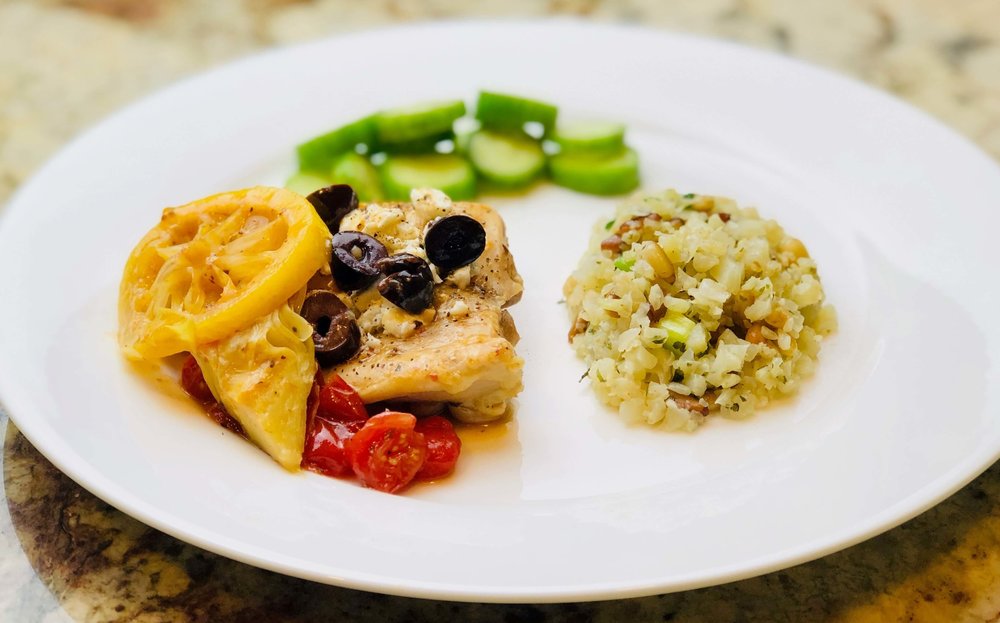 Greek Chicken Thighs
prep time: 10 M
cook time: 25 M
total time: 35 M
Delicious Greek Chicken Thighs with artichokes and olives.
ingredients:
4 boneless skinless chicken thighs
1/2 cup halved cherry tomatoes
1/2 cup feta
3 tsp minced garlic
1 tbsp lemon juice
1 medium onion, cut into quarters
1 can quartered artichoke hearts, drained
1/4 cup sliced Kalamata olives
1 cup low-sodium chicken broth
2 teaspoons dried oregano
2 tablespoons olive oil
1 tablespoon cornstarch
1/2 teaspoon salt
1/2 teaspoon pepper
instructions:
How to cook Greek Chicken Thighs
Pat chicken dry with a paper towel and season with salt and pepper.
Heat olive oil in a large pan over medium heat.
Add chicken to pan and cook through, approximately 3-4 minutes on each side.
Remove chicken from pan.
Add the onions to the same pan and cook until softened, approximately 3-4 minutes.
Add broth and whisk in the cornstarch
Add the drained artichoke hearts, olives, garlic, lemon juice, cherry tomatoes, feta, and oregano to pan.
Add chicken back into the pan.
Bring pan to a simmer over low heat and cover. Allow to simmer for 12 minutes or until the chicken reaches an internal temperature of 165 F.
Enjoy! We paired the dish with our cauliflower rice pilaf and a cucumber salad.
Laurel Ann Nutrition
Greek Chicken Thighs, LEMON ARTICHOKE CHICKEN, GREEK STYLE CHICKEN THIGHS
Dinner
Greek
Author: Laurel Ann Deininger, MS, RD, CDE
Sources:
Rondanelli, M., Monteferrario, F., Perna, S., Faliva, M. A. & Opizzi, A. Health-promoting properties of artichoke in preventing cardiovascular disease by its lipidic and glycemic-reducing action. Monaldi Archives for Chest Disease 80, (2015).

Llorach, R., Espín, J. C., Tomás-Barberán, F. A. & Ferreres, F. Artichoke (Cynara scolymusL.) Byproducts as a Potential Source of Health-Promoting Antioxidant Phenolics. Journal of Agricultural and Food Chemistry50,3458–3464 (2002).

Omar, S. H. Oleuropein in Olive and its Pharmacological Effects. Scientia Pharmaceutica78,133–154 (2010).

Chin, K.-Y. & Ima-Nirwana, S. Olives and Bone: A Green Osteoporosis Prevention Option. International Journal of Environmental Research and Public Health13,755 (2016).

Guantario, B. et al.In Vitro and in Vivo Selection of Potentially Probiotic Lactobacilli From Nocellara del Belice Table Olives. Frontiers in Microbiology9,(2018).