Cherry, Walnut, and Prosciutto Ravioli
This recipe combines crispy prosciutto, cherries, walnuts and transforms them into a fantastic sauce to be placed over savory cheese ravioli. The cherries and prosciutto create the perfect sweet and salty flavor, while the walnuts add a touch of crunch. We threw some spinach in for extra nutrients and fiber! Oh, and I can't forget the sage. Sage ties all these flavors together and adds an earthy flavor to this dish.
This is a diabetic friendly pasta recipe that will be enjoyed by all. Due to all of the yummy fillings, ravioli is a lower carbohydrate alternative to regular pasta with only 33 grams of carbohydrate per cup compared to 43 grams of regular pasta! We chose to go with a simple cheese ravioli for this recipe as to not take away from the full-flavored sauce.
cherry and prosciutto Pasta
prosciutto pasta recipe
This recipe is also filled with some amazing nutrients!
Cherries:
Strong anti-oxidant and anti-inflammatory properties due to their rich amounts of vitamin C and polyphenols. (1)
Walnuts:
Rich in anti-oxidants and polyunsaturated fatty acids ("healthy fats"). (2)

Evidence indicates a strong link between walnut intake and improved brain health by reducing the inflammatory load on brain cells and improving interneuronal signaling and increasing neurogenesis (reduces the effects of brain aging). (2)
Cherry, Walnut, and Prosciutto Ravioli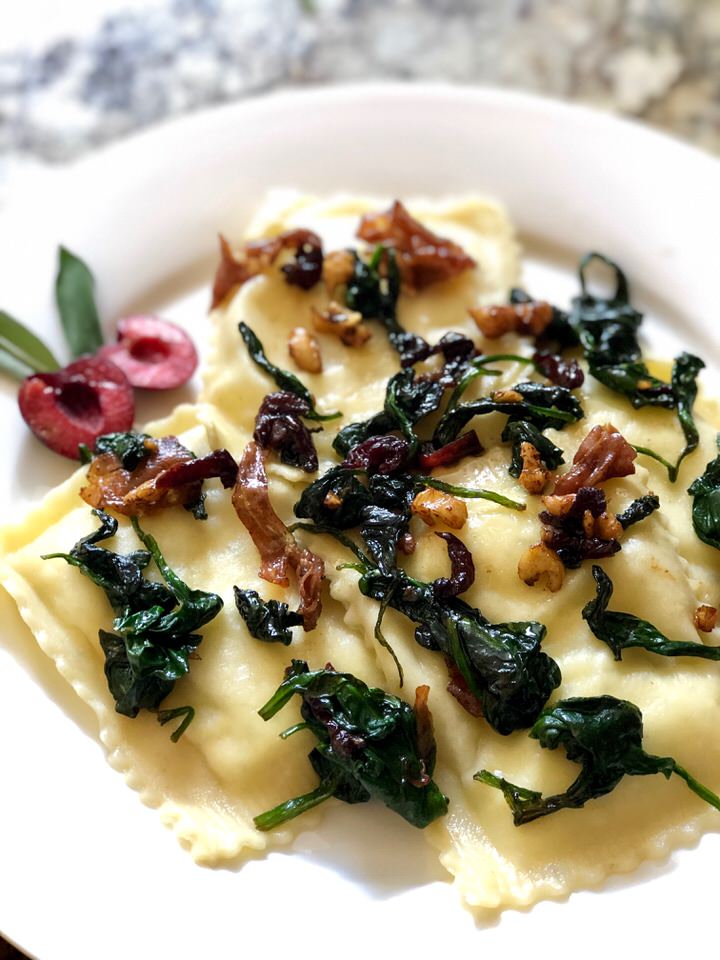 prep time: 15 M
cook time: 15 M
total time: 30 M
This recipe takes crispy prosciutto, cherries, and walnuts and turns it into a wonderful sauce that goes perfectly with cheese ravioli.
ingredients:
1/4 cup cherries, pitted and sliced into quarters
1/8 cup walnuts, roughly chopped
2 cups fresh spinach
3 slices prosciutto, cut into 1/2 inch slices
5 sage leaves
1 pound cheese ravioli
3 tbsp butter
salt & pepper to taste
instructions:
How to cook Cherry, Walnut, and Prosciutto Ravioli
Boil water in a medium size pot. Cook cheese ravioli in boiling water until ravioli floats (approximately 3-5 minutes, may be longer if frozen). Drain water.
Sauté spinach in a medium-sized pan until wilted (approximately 3-5 minutes). Remove spinach from pan.
In the same pan sauté cherries, walnuts, prosciutto, and sage with butter on medium heat until prosciutto crisps and cherries begin to wilt (approximately 3-5 minutes).
Add spinach back to pan.
Toss cooked ravioli in pan with cherry walnut sauce.
Add salt & pepper to taste.
Enjoy!
Laurel Ann Nutrition
crispy prosciutto, best sauce for cheese ravioli, CHERRY AND PROSCIUTTO PASTA, PROSCIUTTO PASTA RECIPE
Pasta
Pasta
sources
Kelley, D., et al. A Review of the Health Benefits of Cherries. Nutrients (2018).

Poulose, S. M., et al. Role of Walnuts in Maintaining Brain Health with Age. The Journal of Nutrition144,(2014).