Pineapple, Sausage, and Shrimp Shish Kabob
This pineapple shrimp recipe is an easy dinner recipe that only takes minutes to cook. We paired this dish with grilled zucchini and onions and a small sweet potato.
I am always looking for a quick fresh meal that doesn't dirty up the pans. Lets be honest…the pans are still dirty from the night before ;-) So bust out the grill and enjoy this EASY meal.
This recipe highlights fresh shrimp with a sweet chili raspberry marinade. We also added pineapple and sausage to get that perfect sweet, salty, and spicy taste we were craving.
Sweet chili shrimp skewers
**Affiliate link disclaimer: This article contain affiliate links. If you click one of these link and make a purchase, I will earn a commission at no extra cost to you. Thank you for your support!!
Pineapple shrimp recipe
Pro-Tips:
Make sure to leave a little room between ingredients as to allow all sides to evenly cook.

Remove shell and devein shrimp before marinating them. This will allow the shrimp to soak up all of the flavor from the marinade :-)

Too cold to grill outside? You can broil these in the oven for about 2-3 minutes on each side. You can also invest in a Grill Pan and cook them on the stove!
How will I know when my kabobs are done cooking?
They will take approximately 3 minutes on each side. You will know the kabobs are done when the shrimp have turned pink and opaque (1).
Should I leave the tail on or off?
Its personal preference here! The tail can create a prettier presentation… But I typically take them off because it is easier to eat them without the tail ;-)
Grilled Shrimp Kabobs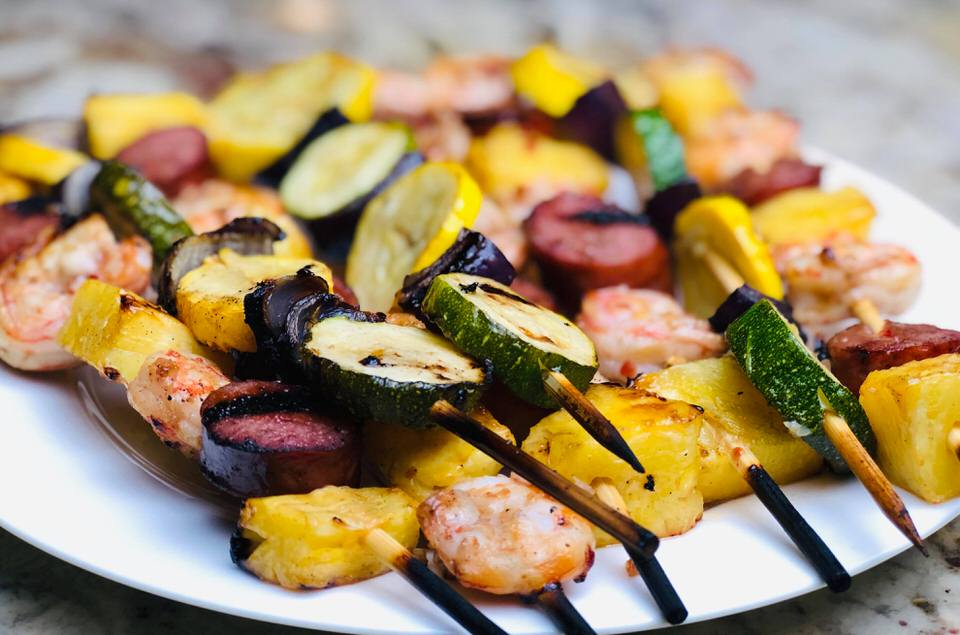 prep time: 15 M
cook time: 15 M
total time: 30 M
An easy low-carb recipe that highlights fresh shrimp, pineapple, sausage, and a sweet chili sauce.
instructions:
How to cook Grilled Shrimp Kabobs
Mix ground fresh chili paste and raspberry vinaigrette in a large bowl.
Marinate shrimp in vinaigrette mixture and set aside while you complete steps 3-4
Cut pineapple into 1-inch cubes
Cut sausage into 1-inch slices
Drain shrimp from vinaigrette marinade
Place sausage, shrimp, and pineapple on skewers, alternating between ingredients
Grill skewers until shrimp and sausage are cooked through (approximately 3 minutes on each side)
Enjoy :-)
Laurel Ann Nutrition
Grilled Shrimp Skewers Recipe, Shrimp Shish Kabob, Sweet Chili Shrimp, Pineapple Shrimp Recipe
Dinner
American