Irish Stew Slow Cooker Recipe
Happy St. Patrick's Day! Swap out the green beer for something a bit more traditional, like this Irish soup! Or… drink the green beer with the stew? You do you! Traditional Irish stew is made with mutton or lamb. I chose to go with chuck stew meat as it was a little easier on the pocket and tastes delicious. I also threw in a little Guinness for good measure as it adds to the savory flavor of this dish. Enjoy this recipe for St. Patrick's Day and all year long!
Guinness Irish Soup
**Affiliate link disclaimer: This article contain affiliate links. If you click one of these link and make a purchase, I will earn a commission at no extra cost to you. Thank you for your support!!
GUINNESS BEEF STEW
Pro-tips:
Check the stew 30 minutes before serving to see if you need to add any extra seasoning.

Brown the meat before throwing it in the crock pot as this enhances the flavor of the meat.

Cut the carrots and potatoes into large chunks to prevent them from turning into mush. Here we halved our golden baby potatoes and kept our carrots in 1 inch slices.

Like a more gravy like stew? Reduce the beef broth from 4 cups to 3 cups. Also increase the flour from 2 tbsp to 3 tbsp (or more if you like it extra thick). This will create a thicker gravy-like stew :-)
Want to speed things up with your Instant Pot? We got you covered! Scroll down to see Irish beef stew instant pot directions.
Want to make this stew in the oven? Pre-heat the oven to 325 F. Follow steps 1-4 below. Cook the stew in a large dutch oven for approximately 3 1/2 hours.
GUINNESS IRISH SOUP, Irish Soup, GUINNESS BEEF STEW, Irish Stew Slow Cooker Recipe, Irish stew
Stew/Soup
Irish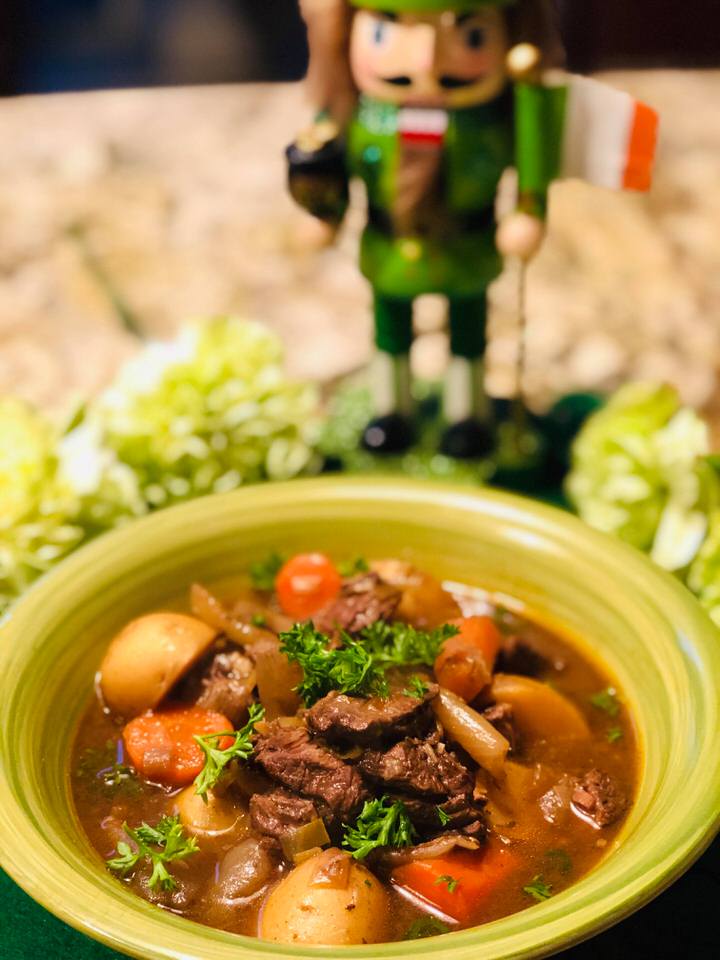 Irish Stew Slow Cooker Recipe
Delicious Irish stew made EASY in the slow cooker or instant pot. This beef stew has a little Guinness in it to add to the savory flavor of this dish. Enjoy this recipe for St. Patrick's day and all year long!
prep time: 20 M
cook time: 4 hour
total time: 4 H & 20 M
ingredients:
2 lbs beef chuck stew meat
2 tbsp olive oil
4 cups reduced sodium beef broth
2 tbsp tomato paste
1 cup red wine (optional)
1 12oz bottle of Guinness (or your favorite stout beer) (optional)
2 tbsp Quick-Mixing Sauce 'N Gravy Flour (or all-purpose flour)
1 leek, cut into 1/2 inch slices *note: only use white to light green part of the leek. Discard dark green ends.
3 medium onions, quartered
3 cups baby golden potatoes, halved
1 lbs carrot, cut into 1 inch slices
2 bay leaves
3 tsp minced garlic
1 tsp thyme
Salt and pepper to taste
Optional: fresh parsley garnish
instructions:
How to cook Irish Stew Slow Cooker Recipe
Brown the meat: pat meat with paper towel. Sprinkle meat with salt and pepper. Heat olive oil in the pan on medium heat. Brown the meat, working in batched as to not overcrowd the pan. This step can also be completed in the instant pot on the saute setting.
Add Quick-Mixing Sauce 'N Gravy Flour to browned meat and mix well.
Transfer browned meat to the slow cooker (or instant pot).
Add remaining ingredients to the slow cooker (or instant pot) and mix well.
Cook on low setting for 8 hours or high setting for 4 hours, until meat is fork tender. If using the instant pot set to high pressure for 60 minutes. After the 60 minutes, allow the instant pot to slowly release pressure for 10 minutes before turning the quick pressure release knob.
Garnish with fresh parsley, salt and pepper to taste.
Enjoy!
Laurel Ann Nutrition
Want more slow cooker/instant pot recipes?
Pressure Cooker Pulled Pork: The BEST pork recipe. It is so darn delicious and easy to make! This recipe utilizes a mouthwatering Mojo seasoning with fresh citrus, garlic, oregano, and cumin. Pair with brown rice and veggies, use it in a sandwich, or make your own pork burrito bowl.
Leek and Cauliflower Soup: Velvety vegan cauliflower and leek soup. The perfect addition to a cold winter day!
Asian Shredded Beef: Craving takeout? But looking for something a bit healthier? Try this Asian shredded beef and add all of the vegetables your heart desires.