Celeriac Puree with Sour Cream and Chives
This intimidating root veggie may lack glamour, but pours out a beautiful potato-like texture with a delicate celery flavor. Celeriac, aka celery root, is packed with some serious nutrition and flavor. In this recipe we elevated the delicate celery flavor with sour cream and chives.
Celery root nutrition facts:
**Affiliate link disclaimer: This article contain affiliate links. If you click one of these link and make a purchase, I will earn a commission at no extra cost to you. Thank you for your support!!
Special Considerations:
While celery root is a great source of vitamins/minerals; perfect to add to a healthy diet, there are special considerations for those taking certain medications or who have certain conditions:

Due to its high amount of vitamin K, celery root should be eaten with caution if you are taking blood thinners such as Warfarin.

Celery root has a high amount of phosphorus and potassium, making it unsuitable for people on dialysis.

Do not eat large amounts of celeriac during pregnancy as it contains compounds that may stimulate contractions (6).
How to pick the perfect Celery root:
Choose a medium sized (4-5 inches in diameter) celery root as they are less fibrous compared to larger roots

Is it heavy for its size? You got a good one! It is important to avoid celery roots that are hollow. So, choosing one that is heavy is a good way to avoid this.

Avoid celery roots with cracks in the surface

Avoid any with soft spots
How to store a fresh celery root:
Fresh celery root will have a stronger celery taste

Vegetable crisper is your friend: store in a resealable bag.

Fresh, uncut celery root can be stored in the refrigerator for about 10-14 days (7)
How to Prepare Celery root:
Make sure to prepare it right before cooking! Celery root turns brown quickly after cutting (just like its cousin the potato).

If you plan to prepare early or decide to eat it fresh you can place the cut celery root in cold water with a few slices of lemon or few drops of white-wine vinegar.

Rinse and scrub the outside of the celery root to remove and dirt

Peel the outside of the celery root

A potato peeler won't do the job! You can carefully use a sharp pairing knife to remove the peel.

Slice into 1 inch cubes and you are ready to cook!
Mashed Celery Root
Pro-Tip:
The best texture (similar to mashed potatoes) come from using an Immersion hand blender An Immersion blender is able to break up the fibers, creating a creamy texture. This can be done with a hand mixer, but the texture will not be as smooth.
Celeriac Puree with Sour Cream and Chives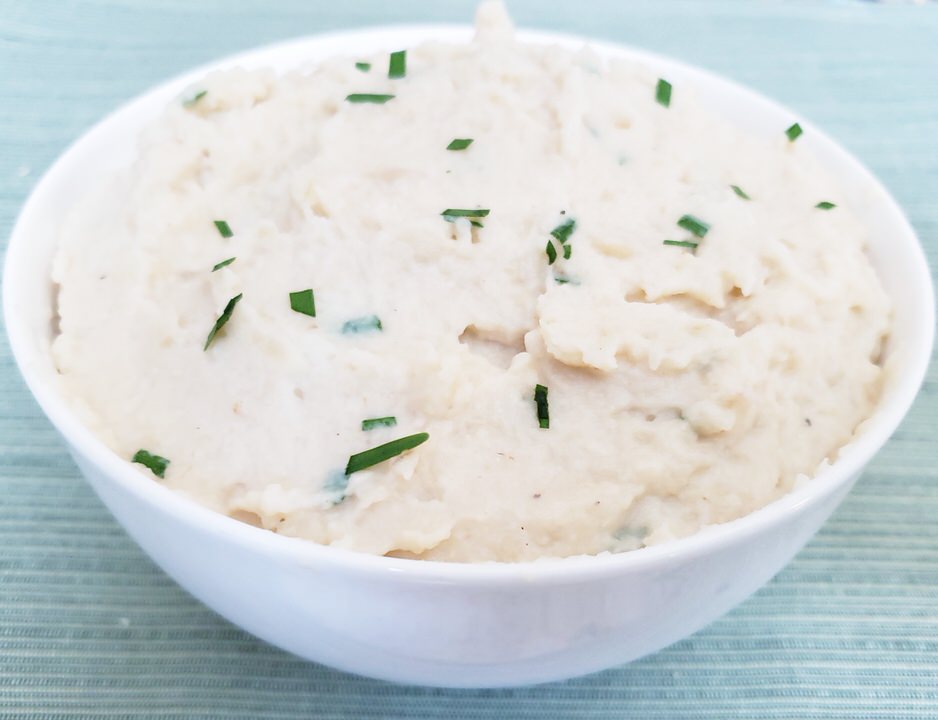 prep time: 10 M
cook time: 15 M
total time: 25 M
Deliciously simple celery root puree (with hints on how to make it EXTRA smooth and creamy!) enhanced with sour cream and chives.
ingredients:
Ingredients
6 cups of 1" cubed celery root (approximately 3 medium celery roots)
1/2 cup sour cream
2 tbsp butter
1/2 tbsp chives
Salt and pepper to taste
instructions:
How to cook Celeriac Puree with Sour Cream and Chives
IF USING INSTANT POT: Place the steam rack into your instant pot and add 1/2 cup of water. Placed cubed celery root on steaming rack and set instant pot to manual high pressure for 10 minutes. After 10 minutes, allow to release pressure for 2 minutes before turning quick release knob (go to step 3).
IF USING LARGE POT: add cubed celery root to a large pot and bring to a boil for approximately 15 minutes, until fork tender.
Drain water.
Add butter and sour cream to celery root. Puree until smooth using either an immersion hand blender or hand mixer. (see pro-tips).
Mix in chives, salt, and pepper.
Enjoy!
Laurel Ann Nutrition
Celeriac puree, mashed celery root, how to prepare celery root, how to store celery root, celery root nutrition facts
Side dish
American