Diabetic Vegan Recipes
Are you vegan? Or just looking for some meatless dishes? I gotcha covered from breakfast to dessert! Oh and they were all created by Registered Dietitians :-)
Vegan Diabetic Recipes
What is vegan?
A vegan dish is one that is free of any animal products including meat, dairy, and eggs.
Should I go vegan?
It is a preference! You can live a happy healthy life with a vegan or non-vegan diet. Many choose to go vegan for ethical or environmental reasons but at the end of the day the choice is yours.
Am I vegan?
Nope! I choose to include animal products in my diet because that is my preference. BUT there are many vegan meals I do enjoy eating :-)
Breakfast
This is a refreshing nutrient packed shake that is perfectly sweet without the added sugar! It is made thick and creamy with banana, pineapple, spinach, and wheatgrass.
by Registered Dietitian Shahzadi Devje
Click here for the recipe
Fonio Super Grain Bowl by me!
This is a gluten free whole grain that is sustain-ably cultivated in West African countries. And it could not be easier to cook…seriously.
It is high in methionine, cysteine and leucine amino acids, which are deficient in today's major grains. It also boosts a higher amount of iron than most grains with 8.5mg per 100g. These qualities make fonio the perfect addition to your vegan diet!
Vegan Chia Pudding with Strawberries by Registered Dietitian Shahzadi Devje
This recipe combined breakfast with dessert! Ice cream + chia pudding creates your next favorite breakfast dish.
Easy Vegan French Toast by Kara Lydon Nutrition
Only 5 ingredients in this baby! Crispy, sweet, and golden-brown while still being vegan and diabetes friendly :-)
Did help choose a bread for this recipe? Check out our best bread for people with diabetes here.
Lunch
This pasta salad is paired with creamy turmeric ginger dressing!
By Meals with Maggie
Instant Pot JackFruit Tacos by Kara Lydon Nutrition
This vegan play on carnitas is going to satisfy your taco cravings! Make this recipe in no time with a pressure cooker/ instant pot.
Hummas Pizza with Mushrooms and Onion by Amy Gorin Nutrition
WHO doesn't love pizza? Hummas check! Mushrooms check! Onions check!
Vegan Chipotle Sofritas by Off The Vine Nutrition
Enjoy this dish in you own home without the takeout price-tag!
5 Minutes Weeknight Tacos by Being Nutritious
It takes more than 5 minutes to drive through Taco Bell!
Green Goddess Buddha Bowl by Sharon Palmer The Plant-Powered Dietitian
This bowl combines whole grains and beans with an array of fresh vegetables topped off with some crunch pumpkin seeds.
Dinner
Vegan Eggplant MeatBalls With Tempeh in Tomato Sauce
The title says it all!
By Mom's Kitchen Handbook
Cauliflower Steak with Lentils + Red Pepper Sauce by Meals with Maggie
Make this dish in under 30 minutes to have an amazing meal that will make you feel like you are out at a fancy restaurant!
Simple Stir Fry by Being Nutritious
Forget the takeout with this simple stir fry! Only a few ingredients and under 30 minutes to make.
Daal Makhani (Coconut Lentil Curry) by Registered Dietitian Shahzadi Devje
This hearty lentil curry is made with brown lentils and red kidney beans in a creamy coconut and tomato sauce with traditional Indian spices.
Mushroom Vegan Carbonara Pasta by Meals with Maggie
"This Vegan Carbonara Pasta is velvety and creamy! A great alternative to a creamy pasta sauce that is dairy free and vegan!"
High Protein Vegan Pasta Bake by Meals with Maggie
This recipe uses Chick Pea noodles to give this dish a high protein and high fiber boost!
Black Bean & Sweet Potato Vegetarian Kebabs by Registered Dietitian Shahzadi Devje
"Made with black beans and sweet potato, and infused with traditional South Asian spices, to create a healthy ethnic food recipe – that the entire family will love."
Eggplant Marinara with Sun Dried Tomatoes by Nutrition Starring You
This delicious dish takes only 6 ingredients!
Cauliflower Spinach Lasagna by Sharon Palmer the Plant-Powered Dietitian
"This lasagna dish looks impressive, but it's deceptively simple."
Thai Tofu Veggie Noodle Bowl by Sharon Palmer the Plant-Powered Dietitian
"This dish boasts a rich Thai flavor profile, thanks to hearty additions of red curry, coconut, and peanut butter."
Soups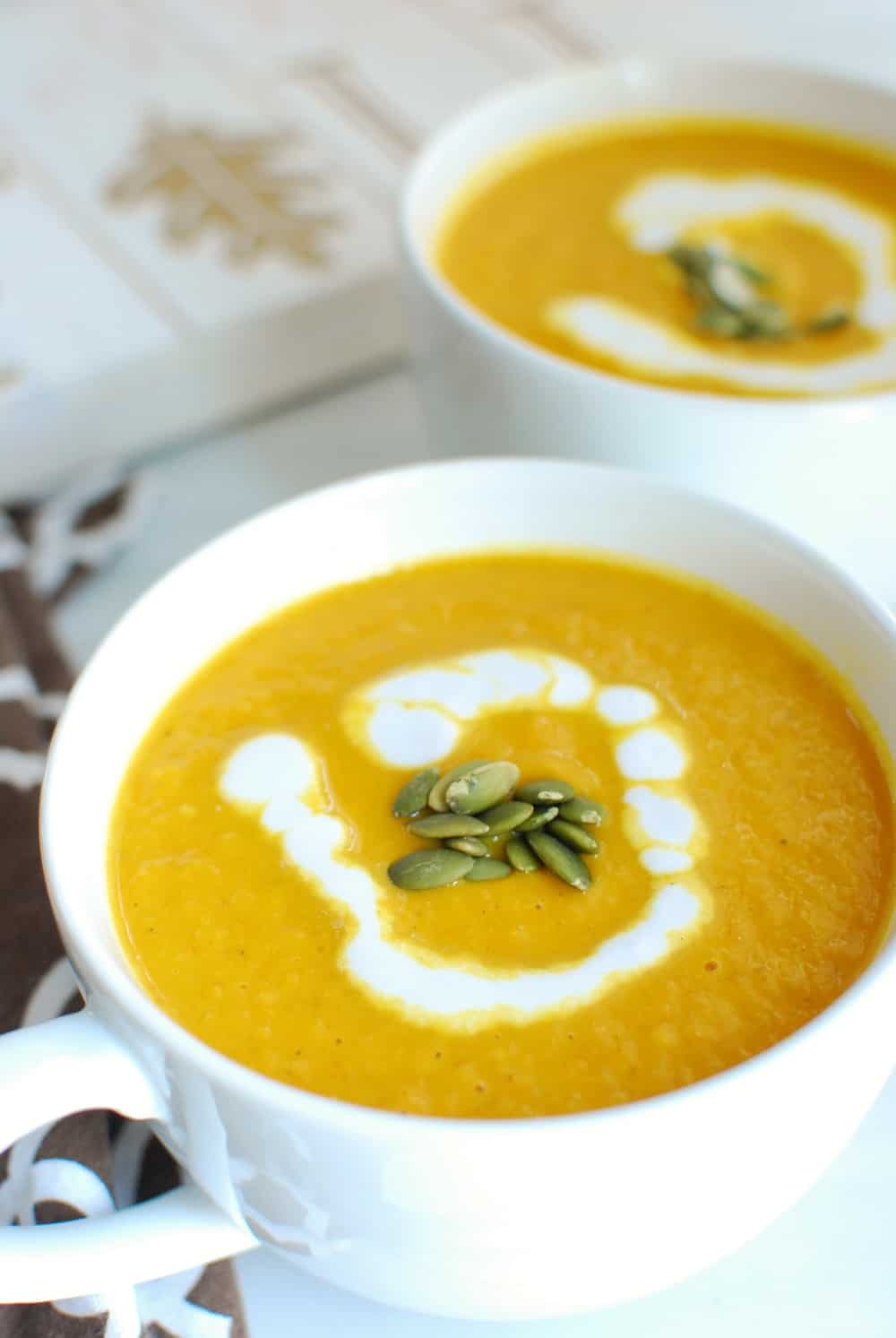 This recipe creates the "perfect blend of sweetness from the pumpkin and apple, savory elements from the onion and broth, and richness from the coconut milk! Plus, from start to finish, this soup is ready in under 30 minutes."
by Dairy Free For Baby
Coconut Lime Chick Pea Stew with Leafy Greens by Mom's Kitchen Handbook
The title says it all!
Leek and Cauliflower Soup by ME
This leek and cauliflower soup is made with a protein boost of tofu!
Snacks


Everything But the bagel Chickpeas
This snack packs on the flavor with only 4 ingredients!
By My Millennial Kitchen
Radish Chips by Me!
These are made simple in the dehydrator! Only 3 ingredients in these puppies.
Peanut Butter Sweet Potato Spread by Being Nutritious
This 3 ingredient spread will spice up any slice of bread!
Roasted Parsnips with Arugula Pistachio Pesto by Being Nutritious
"Parsnips are naturally sweet, and roasting them brings out an amazing caramelized note, with a buttery finish."
Dessert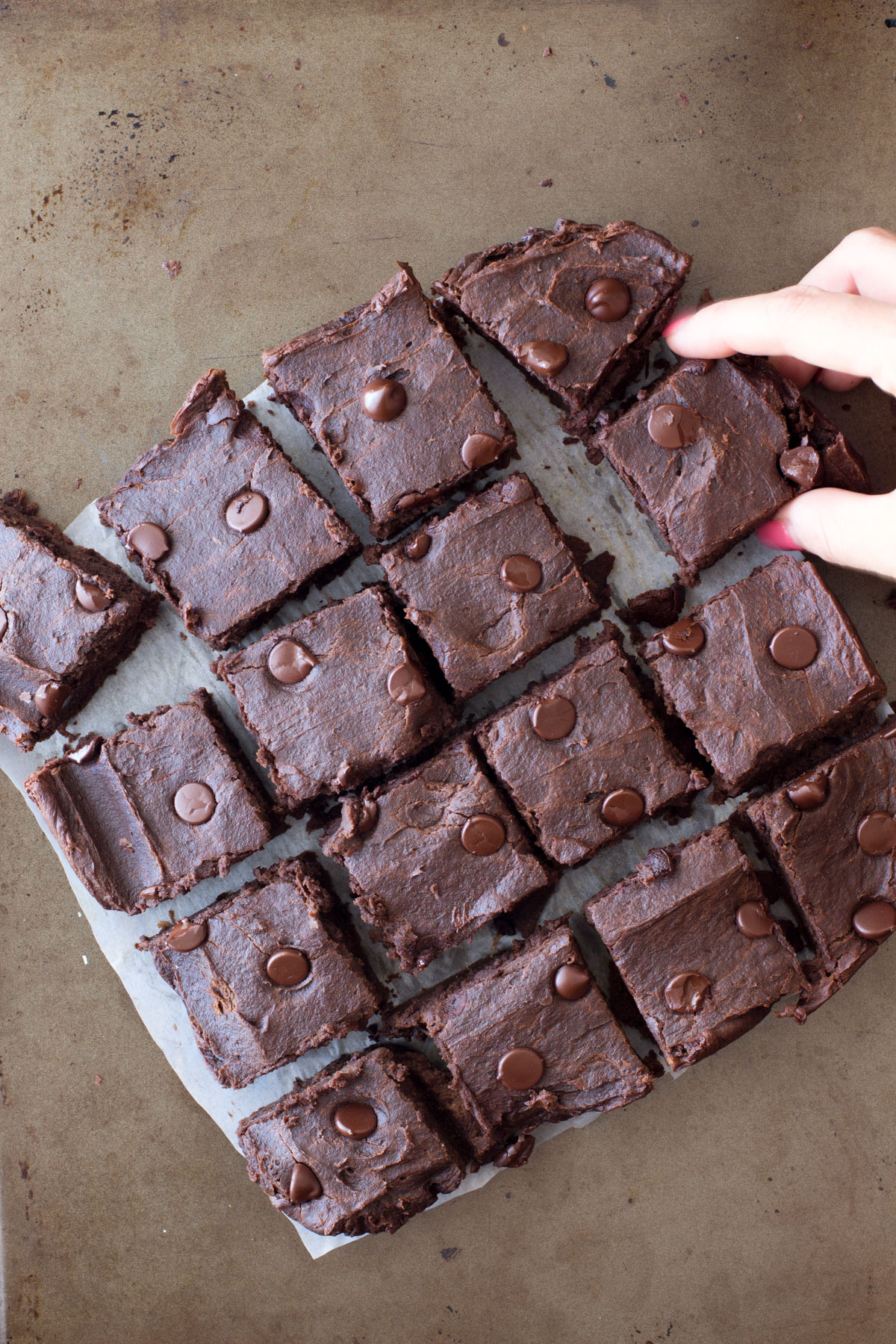 Vegan Fudgy Chocolate protein brownies
Don't these look AMAZING? 7 grams of protein per serving.
By Hungry Hobby
Peanut Butter Chocolate Strawberry Protein Flatbread by Nutrition Starring You
This recipe is protein and fiber packed!
Sun Butter Cookies by Hungry Hobby
Only 4 ingredients in this delicious dessert!
Lemon Tofu Creme by Nutrition Starring You
This 3 ingredient dessert takes only 5 minutes to make :-)