Fig, Prosciutto, and Burrata Salad
This is THE BEST summer salad made with seasonal figs! There is a wonderful balance of sweet, salty, crunchy, and creamy notes in this recipe. Enjoy and feel like you are eating at a fancy bistro in your own home ;-)
How to make a Fig and Prosciutto Salad
What is burrata cheese?
It is an Italian cheese made from cow's milk. The outer layer is mozzarella and the inner layer is stracciatella cheese with cream.
Think of it as a mozzarella ball with a creamy center.
Can I use a different type of cheese?
Of course!! I often make this salad with ricotta cheese or fresh mozzarella. You can also use crumbled feta, goat cheese, or blue cheese.
What about salad dressing?
The salad is great without any dressing :-) The creaminess of the burrata cheese helps keep the salad moist.
A drizzle of balsamic vinegar or a light vinaigrette goes great with the salad if you do want dressing!
Roasting the pine nuts:
Use the broil setting in your oven and keep a close eye on them! Pine nuts can burn easily if you step away for too long.

Broil them for 1 minute and then toss and broil for an additional 1 minute to get an even toast.
How to Make Roasted Figs
Heat oven to 350 F and line a baking pan with parchment paper

Cut the figs into 1/2 inch slices

Toss the figs in 1 tsp of olive oil

Evenly place figs on the lined baking pan

Bake for 7-10 minutes, until figs have become slightly caramelized
Do you have extra prosciutto? Try out these amazing recipes :-)
Fig, Prosciutto, and Burrata Salad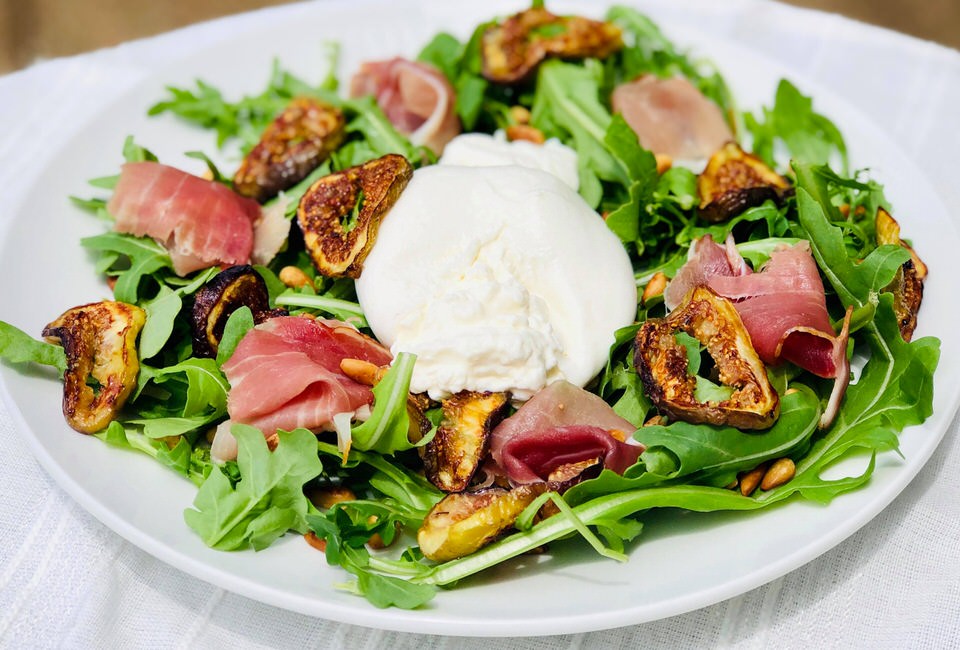 prep time: 5 M
cook time: 10 M
total time: 15 M
The BEST summer salad made with seasonal figs! There is a wonderful balance of sweet, salty, crunchy, and creamy notes in this recipe. Enjoy and feel like you are eating at a fancy bistro in your own home ;-)
ingredients:
1 4-ounce ball of fresh Burrata cheese
1 tbsp toasted pine nuts (see tips above)
1 tsp olive oil
2 small figs cut into 1/2 inch slices
1 cup arugula
1 oz prosciutto (approximately 1 slice)
Parchment paper (for baking figs)
instructions:
How to cook Fig, Prosciutto, and Burrata Salad
Pre-heat oven to 350 F. Line baking sheet with parchment paper.
Roast figs: toss figs in olive oil. Place figs on a baking sheet and bake for approximately 7-10 minutes until lightly caramelized. Allow figs to cool.
Plate arugula and top with toasted pine nuts, prosciutto, and roasted figs. Place burrata cheese in the middle of the plate.
Enjoy!
Laurel Ann Nutrition
Burrata salad, Fig prosciutto, PROSCIUTTO SALAD, fig and prosciutto, ROASTED FIGS
Lunch
American